May 12th, 2014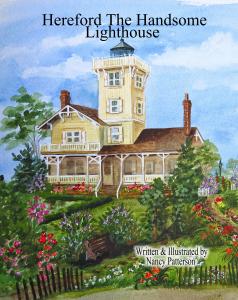 I'm so excited to announce that book #2 of the Southern New Jersey Lighthouse Series - "Hereford the Handsome Lighthouse" a children's story about Hereford Inlet Lighthouse in Anglesea(North Wildwood), New Jersey is now in print. Books are now available online at Amazon, B&N, etc. … & will soon be available at the Lighthouse.
May 12th, 2014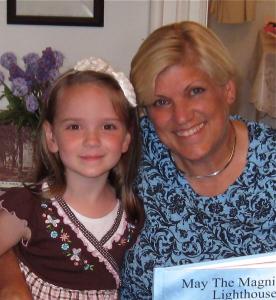 It all started with the first climb! To my amazement I started writing & illustrating Children's books about lighthouses after taking my granddaughter Ella to climb the various beautiful lighthouses that grace the southern New Jersey shore. We started climbing lighthouses the summer she was three years old. To my great delight, Ella was hooked at first climb. Since first climbing Cape May Lighthouse together, visiting & climbing lighthouses has become one of our favorite ways to spend our days.

I too have been a lighthouse fan since I was a child & they have been one of my favorite subjects to paint for years, but seeing each lighthouse anew through the eyes of a young child sparked another side of my creativity. To my surprise soon after climbing each lighthouse with my granddaughter, fun stories about each one began to fill my mind. I had never really thought about writing so it has been a new adventure for me. All five stories are written that are part of the Southern New Jersey Lighthouse Series & I am now working on the many illustrations. It has been a very fun & exciting project so far & one that I look forward to continuing with great anticipation.

The first series of lighthouse books are about the lighthouses who light the shores of southern New Jersey. There are five books in the series, each highlighting a different southern New Jersey Lighthouse. Included in the series is, "May the Magnificent Lighthouse"(Cape May Light), "Hereford the Handsome Lighthouse"(Hereford Inlet Light in North Wildwood), "East Point the Red Roof Lighthouse"(East Point Light in Heislerville on the Delaware Bay), "Ludlam the Lost Lighthouse"(Ludlams Beach Light that was once in Sea Isle City), & "Abby the Amazing Lighthouse"(Absecon Lighthouse in Atlantic City). All the books are written in rhyme & are illustrated with full page watercolor artwork making them fun for both young & old alike. Each book tells a story that includes facts & some of the history of each lighthouse. They also teach the importance of protecting our maritime history & how people working together can make a difference. Each book also has the added bonus of featuring a letter making them a useful tool in teaching young children to read.

"May the Magnificent Lighthouse" is the first book in the series & is now available in hardback. It can be purchased online from the major book distributers including Barnes & Nobel, Amazon & others. The book tells a sweet story about a young girl(Ella) who climbs the lighthouse with the help of her new found friend Mac who just happens to be a small mouse. As young Ella climbs the lighthouse with the help of Mac the Mouse, she not only learns what makes Cape May Lighthouse so magnificent but also the importance of protecting our history & how each individual can make a difference.